Ninja Woodfire Electric BBQ Grill & Smoker OG701EU: – The Ultimate Outdoor Cooking Experience
Experience a new way of cooking outdoors with the Ninja Woodfire Electric BBQ Grill & Smoker OG701EU. Grill, smoke, air fry, and more with 100% authentic Woodfire flavors.
Powered by electricity, it's ready when you are. The struggle of lighting a grill is a thing of the past. Simply plug it in and start cooking outdoors without the mess or hassle, anytime during the week – all the flavor, without the trouble. Enjoy smoked food prepared in the same time it takes certain charcoal grills to preheat.
BBQ GRILL: Get the juicy and authentic grilled surface from a traditional grill, without the hassle. The grill reaches up to 260°C for authentic searing and grilling. The top and bottom heating elements work together with a convection fan for even cooking.
BBQ SMOKER: The integrated smoke box burns natural wood pellets to create authentic BBQ flavors. A convection fan circulates heat and smoke evenly around the food, ensuring rich, fully developed Woodfire flavors.
OUTDOOR AIR FRYER: Air Fry: Up to 75% less fat than deep frying*.
Take the kitchen outdoors with 7 customizable cooking functions, including Air Fry, Roast, Bake, Reheat, and Dehydrate. Let the sides take the spotlight, from air-fried French fries and potato wedges to baked potatoes and bread. Finish your grill feast with quick and easy desserts like caramelized pineapple, baked apples, and grilled peaches.
Additionally, you can infuse any cooking function with a hint of smoky Woodfire flavor.
WOODFIRE TECHNOLOGY: Powered by electricity, seasoned with the combustion of real wood pellets. The integrated smoke box allows you to infuse rich Woodfire flavors into any cooking function.

Ninja Woodfire Electric BBQ Grill & Smoker OG701EU RRP: 3699.00 DKK.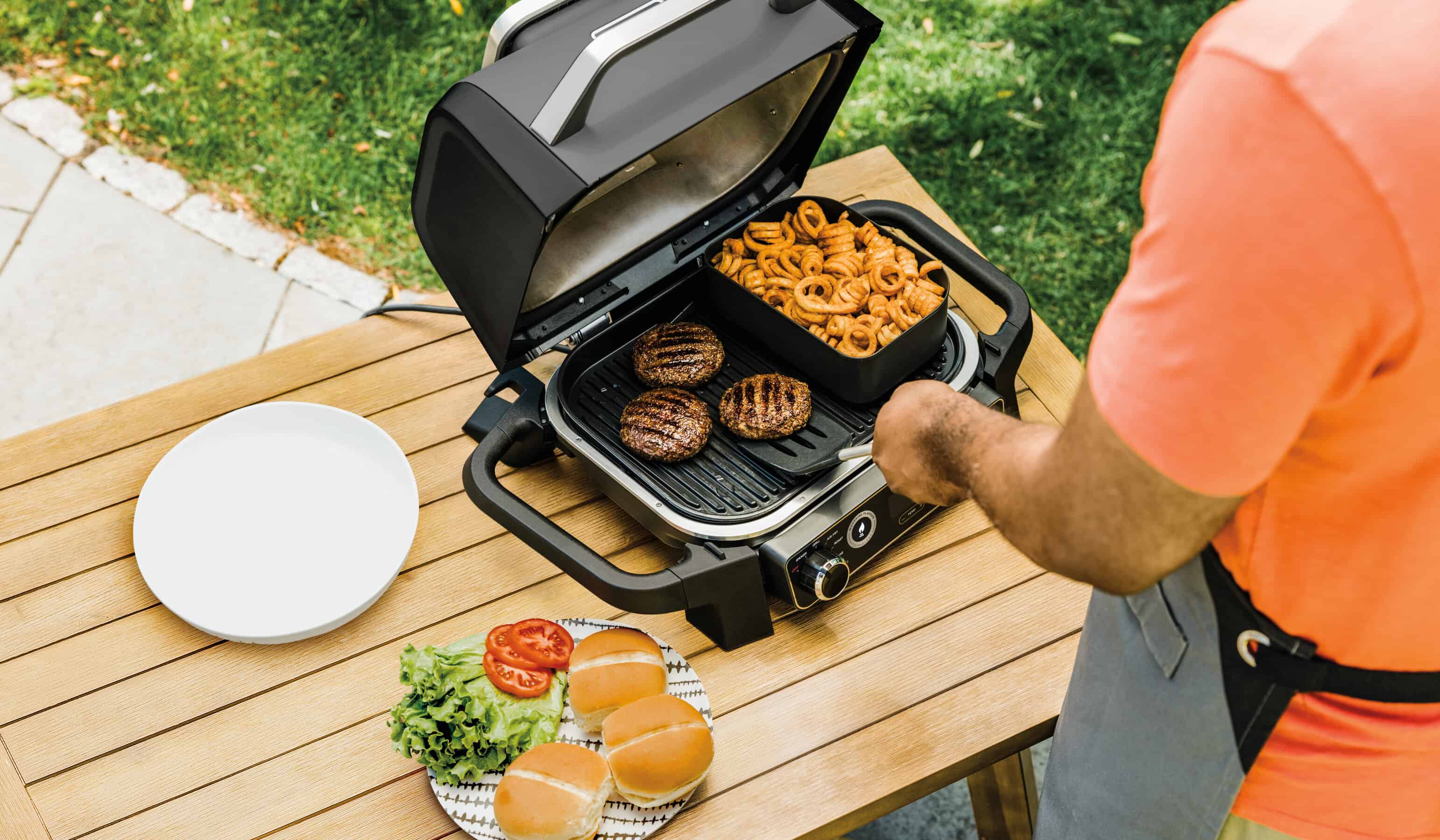 *Tested against deep-fried, hand-cut French fries.