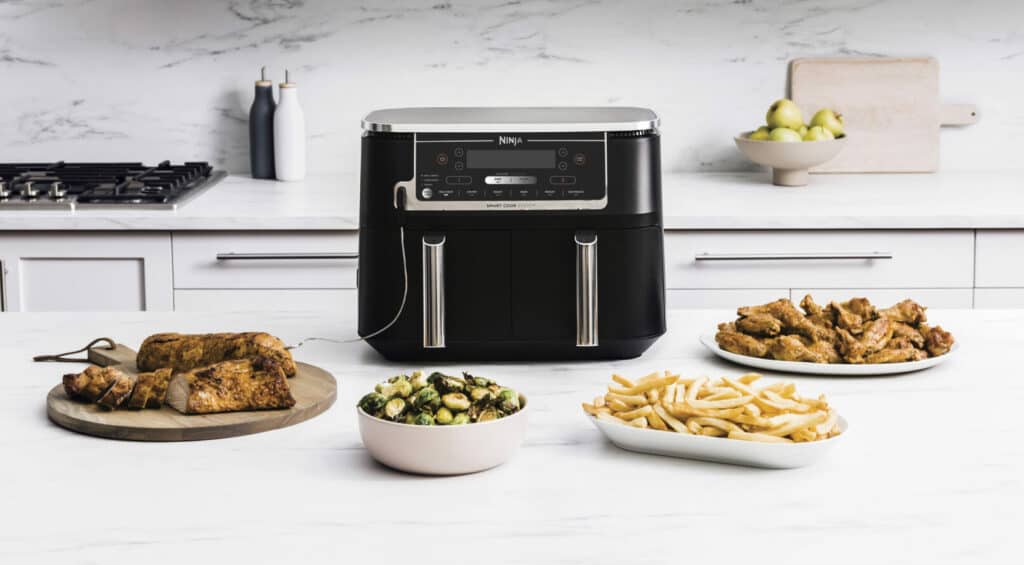 Ninja Foodi Airfryer MAX Dual Zone AF451EU – the perfect combination of capacity and versatility
The Ninja Foodi AF451EU is the latest addition to the award-winning air fryer family. Designed to impress with its large capacity and versatile cooking functions, it can only leave a lasting impression in the kitchen.
One of the most innovative features of this air fryer is the included digital thermometer. The digital thermometer allows you to cook meat and fish to perfection without guessing the temperature. Simply select the desired finish, and Ninja's Smart Cook System takes care of the rest. With precise monitoring of the food's temperature during cooking, you can always be sure of achieving a delicious and juicy result.
The AF451EU is equipped with 2 independent cooking zones, making it ideal for families and large households as it can cook food for up to 8+ people. That's up to 25% more food compared to other air fryers on the market.
You can cook two different foods with different temperatures, times, and settings in the separate drawers. Thanks to the SYNC function, both dishes can be ready to serve at the same time. The MATCH function also allows you to cook twice as much food at the same time using the same settings in both zones.
With 6 different cooking functions, you can truly explore your creativity in the kitchen. From air frying, where you can enjoy your favorite fried dishes with up to 75% less fat, to roasting, baking, dehydrating, and reheating, this air fryer allows you to prepare a wide variety of delicious meals. The easy-to-use digital control panel with countdown timers makes it easy to keep track of the cooking process.

Ninja Foodi Airfryer MAX Dual Zone AF451EU RRP: 2499.00 DKK.